Cogemos en pleno vuelo a estos orfebres del Power Pop que entre avión y avión surcan los cielos del Power Pop y el Rock and roll con delicada presteza. Nos cuentan las buenas nuevas sobre su segundo disco y como ha sido su camino hasta aquí.
Venís de Maryland como un trío con raíces en los sonidos power-pop, ¿cómo fue el proceso creativo de la banda para potenciar estos sonidos?
Durante muchos años fuimos estrictamente una banda de covers de power pop, tocando éxitos como "My Sharona" y canciones más oscuras como "Don't Wait Up for Me" de los Paul Collins Beat. Así que cuando empezamos a componer material original, ya habíamos forjado nuestro sonido: nítido, con mucho ritmo, contundente pero melódico, con la voz en primer plano.
Desde la fundación de The Airport 77s hasta el lanzamiento de "Rotation" pasaron cinco años, ¿qué hicisteis durante este tiempo?
Tocamos en un montón de conciertos de bajo perfil en salas de veteranos, fiestas de barrio, desfiles, etc. Nos centramos en conectar con el público y hacer que se pusiera a bailar.
Mostráis el máximo cuidado por las melodías, las guitarras y las voces en cada canción. ¿Son la actitud y la atemporalidad dos principios en vuestro trabajo como banda?
Sí, se puede decir que nos centramos en los fundamentos de la creación de canciones e intentamos no depender de sonidos o trucos que podrían no sonar tan bien dentro de un año o dos.
A principios de 2021 publicáis "Rotation", álbum de debut que pulisteis en los estudios Inner Ear, ¿fue este primer trabajo muy metódico en la elaboración y consecución del disco?
Fue nuestra primera vez en el estudio, y elegimos Inner Ear ya que Don Zientera ha trabajado con un quién es quién de bandas de punk, rock y folk en el área de Washington, D.C. Estábamos preparados cuando entramos, pero fue mucho trabajo grabar y mezclar todas las partes en el tiempo que teníamos reservado. Fue divertido, pero agotador.
El álbum está formado por vuestras propias canciones y una única versión de la canción "Girl of my dreams" de Brian Tchaikovsky, ¿por qué elegisteis esta versión para el álbum?
"Girl of My Dreams" es una canción que hemos tocado en directo durante años. Los obsesos del power pop conocen bien la canción, pero el público en general no. Y John, nuestro batería, conoce al compositor.
Más tarde ficháis por el sello Jem Records, un sello prestigioso en el ámbito del power-pop. ¿Cómo fichasteis por este sello?
Vimos que hay dos o tres sellos de power pop muy conocidos, y empezamos a hablar con el jefe del sello, Marty Scott, en el verano de 2021. Nos gustan muchas de las otras bandas del sello y pensamos que encajaríamos bien. Llegamos a un acuerdo cuando yo estaba en una misión en Miami Beach. Después me tiré al mar para celebrarlo.
Vuestro segundo álbum es ya una realidad actual, demostrando la excelente conexión entre los miembros de la banda en doce canciones de composición propia, pero ¿habéis dicho que este trabajo es más variado en cuanto a sonidos?
Sí, esta vez hemos trabajado con las voces de Def Leppard, los sintetizadores de Cars y los caprichos de Cardigans.
Aparte de los sonidos propios de la banda, hay algunos sentimientos de blues en algunas canciones o rock and roll de los cincuenta en otras, ¿estás de acuerdo?
Ciertamente no somos una banda "bluesera", pero el rock and roll tiene sus raíces en el blues. Tal vez la próxima vez hagamos una versión de "Give Me Back My Wig" de Hound Dog Taylor. Es una gran canción.
Destacan dos cosas: las excelentes melodías y el sentido del humor en la letra.
Gracias. No intentamos ser una banda de "broma" pero tampoco somos una banda "seria". Queremos que nuestra música sea agradable. Y nos esforzamos por incluir sorpresas en la música: a veces, un cambio de tonalidad, un esquema de rima o una melodía poco habituales pueden elevar una canción corriente al siguiente nivel.
En el álbum destacan dos potentes canciones de power-pop como "One good thing about summer" y "Losers win", ¿qué me puedes decir de estas dos canciones?
Ambas canciones muestran las estrechas voces co-líderes que son una firma de Airport 77s. "Summer" surgió rápidamente, desde el concepto inicial hasta el arreglo final. Queríamos transmitir la sensación de estar tumbados en un lago, mirando las estrellas, el tipo de experiencia que tienes una vez al año si tienes suerte. "Losers Win" tardó años en gestarse; tenía varias ideas flotando en mi cabeza y tardaron una eternidad en unirse en un todo. Hay bastante ambigüedad en la historia, equilibrada con detalles específicos como la canción de los Replacements y la arena para gatos. La gente tiene reacciones diferentes: yo tiendo a ver al personaje masculino con simpatía, mientras que mi mujer piensa que es un imbécil. El vídeo también ofrece una visión diferente de la historia.
¿Cómo encaja el hecho de tener un grupo musical con sus diferentes profesiones?
Puede ser complicado. John, el batería, y yo somos periodistas, y Chuck hace cosas de informática para la NASA. Entre la música, mi trabajo y mi familia no tengo mucho tiempo para otras cosas. Pero no pasa nada, ¡todas ellas son actividades gratificantes!
Vuestra idea de la banda es tocar power-pop y rock and roll y que la gente lo disfrute al máximo.
Exactamente. No hay que meterse en el culo intentando hacer las cosas complicadas o desagradables. Se siente bien sonreír.
¿Cuáles son sus planes inmediatos para The Airport 77s?
Vamos a tocar en Nueva York y Washington DC en los próximos meses, y estamos esperando una actuación en el estudio de WFMU, una gran emisora de radio de la zona de Nueva York. También hemos grabado recientemente una canción para un próximo disco de homenaje a JEM. Después de eso empezaremos a trabajar en el próximo disco, tenemos muchas ideas, pero aún no hemos tenido la oportunidad de desarrollarlas.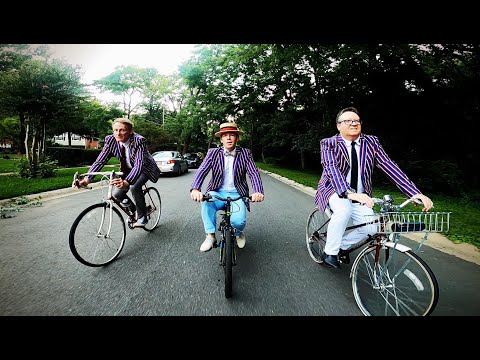 ---
You come from Maryland as a trio with roots in power-pop sounds, how was the creative process of the band to enhance these sounds?
For many years we were strictly a power pop cover band, playing hits like "My Sharona" and more obscure songs like "Don't Wait Up for Me" by the Paul Collins Beat. So by the time we started writing original material, we had forged our sound -crisp, uptempo, hard-hitting but melodic, with the vocals firmly up front.
From the founding of The Airport 77s to the release of "Rotation" it took five years, what did you do during this time?
We played a ton of low key gigs at veterans' halls, block parties, parades, etc. We focused on connecting with the audience and getting them on the dance floor.

You show the utmost care for melodies, guitars and vocals in every song. Are the band's attitude and timelessness two principles in your work as a band?
Yes, it's safe to say we focus on the fundamentals of songcraft and try not to rely on sounds or gimmicks that might not sound so good in a year or two.
At the beginning of 2021 you release "Rotation", debut album that you polished in the Inner Ear Studios, was this first work very methodical in the elaboration and achievement of the album?
It was our first time in the studio, and we chose Inner Ear as Don Zientera has worked with a who's who of punk, rock and folk bands in the Washington, D.C. area. We were prepared when we went in, but it was a lot of work to get all the parts recorded and mixed in the time we had set aside. It was fun but exhausting!
The album consists of your own songs and a single version of the song "Girl of my dreams" by Brian Tchaikovsky, why did you choose this version for the album?
"Girl of My Dreams" is a song we have played live for years. Power pop obsessives know the song well but the broader public does not. And John, our drummer, knows the songwriter.
Later you sign for the label Jem Records, a prestigious label in the power-pop field. How did you sign for this label?
We saw there are two or three well known power pop labels, and started talking to label head Marty Scott in the summer of 2021. We like many of the other bands on the label and thought we would be a good fit. We reached an agreement when I was on assignment in Miami Beach. I jumped in the ocean afterwards to celebrate.
We realize you have a choice" your second album is already a current reality, demonstrating the excellent connection between the members of the band in twelve songs of their own compositions, but you said that this work is more varied in terms of sounds?
Yes, this time around we worked in Def Leppard vocals, Cars synthesizers and Cardigans whimsy.
Apart from the band's own sounds, there are some bluesy feelings in some songs or rock and roll from the fifties in others, do you agree?
We are certainly not a "bluesy" band, but rock and roll is rooted in the blues. Perhaps we will next cover "Give Me Back My Wig" by Hound Dog Taylor. That's one hell of a song.
Two things stand out the excellent melodies and a sense of humor in the lyrics.
Thank you! We do not try to be a "joke" band but we are not a "serious" band either. We want our music to be enjoyable! And we work hard to embed surprises in the music -sometimes an unsual key change, rhyme scheme or melody can elevate an ordinary song to the next level.

Two powerful power-pop songs stand out in the album like "One good thing about summer" and "Losers win", what can you tell me about these two songs?
Both songs showcase the close co-lead vocals that are an Airport 77s signature. "Summer" came together quickly, from the initial concept to the final arrangement. We were aiming to convey a feeling of lying in a lake, looking at the stars -the sort of experience you get once a year if you're lucky. "Losers Win" took years to come together; I had varying ideas floating around in my skull and it took forever for them to cohere into a whole. There's a fair amount of ambiguity in the story, balanced with specific details like the Replacements song and the kitty litter. People have different reactions to it -I tend to view the male character sympathetically, while my wife thinks he is a jerk. The video offers a differing spin on the story as well.
How does having a band fit in with your different professions?
It It can be tricky. John, the drummer, and I are journalists, and Chuck does computer stuff for NASA. Between music, my job and my family I don't have much time for other things. But that's OK -all of those are rewarding pursuits!
Your idea of the band is to play power-pop and rock and roll and for people to enjoy it as much as possible.
Exactly. You don't have to crawl up your own butthole trying to make things complicated or unpleasant. It feels good to smile.
What are your immediate plans for The Airport 77s?
We are playing shows in New York and Washington DC in the coming months, and are looking forward to an in-studio performance at WFMU, a great radio station in the New York area. We recently recorded a song for an upcoming JEM tribute record as well. After that we will start working on the next record -we have many ideas but have not had the chance to develop them yet.
​
​